About your WockAIR® Medication
WockAIR® is a combination inhaler (a preventer and long-acting reliever in a single inhaler), and contains two medicines: budesonide and formoterol fumarate dihydrate which are used to treat asthma in adults and adolescents aged 12-17 years, and Chronic Obstructive Pulmonary Disease (COPD) in adults aged 18 and over.¹
Budesonide works by reducing and preventing swelling and inflammation in your lungs and formoterol fumarate dihydrate works by relaxing the muscles in your airway.
Taken every day as directed by a doctor, WockAIR® helps prevent asthma symptoms from happening.¹
WockAIR® comes in a dry-powder inhaler which contains 60 pre-dispensed doses of the medicine, equivalent to 60 inhalations.¹
Important things to remember about using WockAIR®
Always use WockAIR® exactly as your doctor has told you, every day as prescribed even if you have no asthma or COPD symptoms at the time
Make sure you use the inhaler correctly so you are getting the right treatment dose
Here's a useful video that demonstrates how to use the device:
Do not stop treatment, unless under medical advice
If you are using WockAIR® for asthma, your doctor will want to regularly check your symptoms.
How to use a WockAIR® Inhaler
Your WockAIR® device is a dry powder inhaler (DPI) containing 60 doses in a coiled strip of foil. DPIs do not require the same degree of coordination as pressurised metered dose inhalers (pMDIs) and have been shown to be easier to use and less susceptible to user errors².
The dose counter shows how many doses are remaining, turning red when there are ten or fewer left. Once the counter shows 0, your inhaler is empty. Remember to recycle your inhaler at your local pharmacy.
BEFORE USING THE INHALER
Open side door & remove foil strip. The blisters with black lines do not contain medicine.
As you use the inhaler the side chamber will gradually fill up with used strip. Do not let more than 2 sections of foil strip build up in the side chamber as they may cause the inhaler to jam.
STEP 1: OPEN & CHECK REMAINING DOSES
When this turns red it indicates there are ten or fewer doses remaining.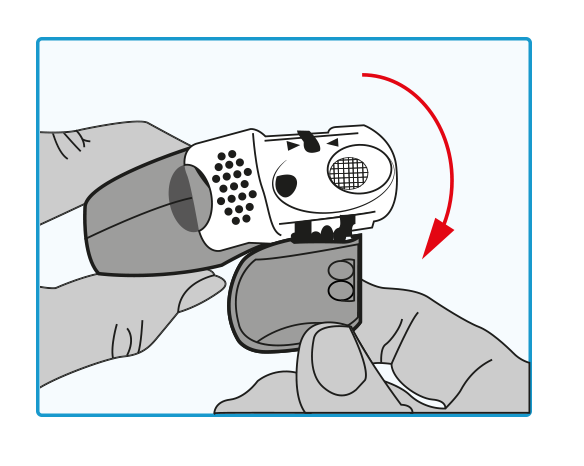 It's also a cue you're holding it the right way.
STEP 2: PREPARE DOSE
Move the white lever fully over as far as it will go and until it 'clicks' .
STEP 3: CLOSE
Close. Afterwards close the white lever fully so that it clicks back into its original position.
The inhaler is now ready for immediate use.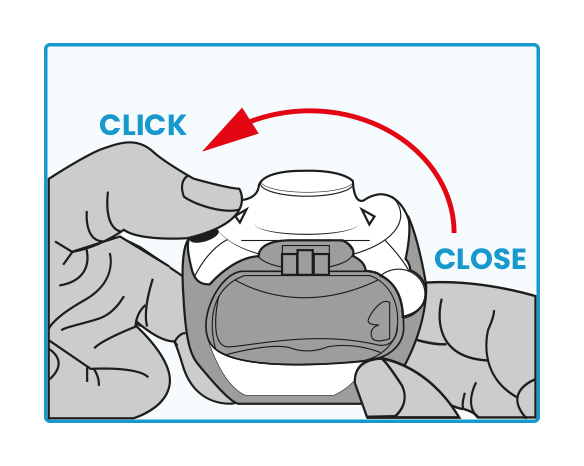 STEP 4: INHALATION OF DOSE
Away from the inhaler mouthpiece, breathe out as much as is comfortable.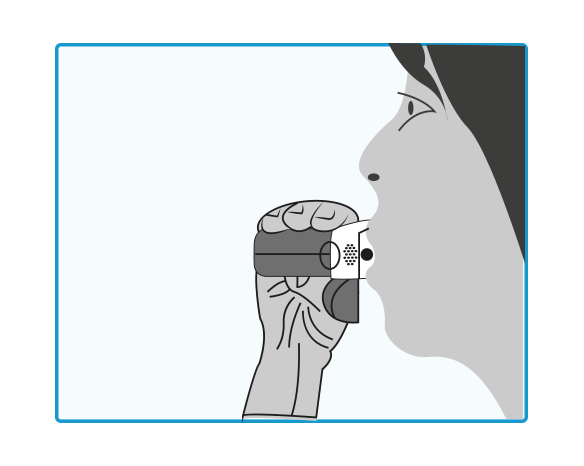 •  Hold the inhaler level with the protective cap pointing downwards
•  Close your lips firmly around the mouthpiece and breathe in steadily and deeply through the inhaler, not through your nose
•  Remove the inhaler and hold your breath for 5-10 seconds
•  Breathe out slowly 
Don't forget, always rinse mouth with water after and tear off used foil strip.
Download these instructions if you need to keep them handy
For further information on WockAIR® including information on side effects and what to do before you use this medicine, please see your patient information leaflet (PIL) that comes with every pack. Please read the PIL carefully and ask your doctor, nurse or pharmacist if you have any questions.
Asthma is a long-term condition that affects your airways – the tubes that carry air in and out of your lungs.
It usually causes symptoms such as coughing, wheezing and breathlessness.³
If you come into contact with one of your asthma triggers, it can make your symptoms worse and even bring on an asthma attack.³
Asthma UK – There are many sources of information available to give help and advice.  Visit the Asthma UK website for information and advice on living with asthma.
Chronic obstructive pulmonary disease (COPD) is the name for a group of lung conditions that cause breathing difficulties.
It includes:
emphysema – damage to the air sacs in the lungs
chronic bronchitis – long-term inflammation of the airways
COPD is a common condition that mainly affects middle-aged or older adults who smoke. Many people do not realise they have it.
The breathing problems tend to get gradually worse over time and can limit your normal activities, although treatment can help keep the condition under control.4
There are many sources of information available to give help and advice
Are you looking for help to stop smoking?
Smoking is a major cause of COPD. Speak to your doctor or COPD nurse about stopping smoking and follow the links below for more support services.
NHS Stop Smoking Services
Helpline 0800 022 4 332
Download the NHS Smokefree app to help you stop smoking by providing daily support and motivation.
British Lung Foundation
Visit the British Lung Foundation website for information and advice on living with COPD.
British Lung Foundation Support Groups
The British Lung Foundation support groups provide support and information for people living with a lung condition, and for their carers. Visit the British Lung Foundation page on British Lung Foundation Support Groups for more information.
If you experience any side effects, talk to your doctor, pharmacist or nurse. This includes any side effects not listed in the package leaflet. You can also report side effects directly via the Yellow Card Scheme at https://yellowcard.mhra.gov.uk/. By reporting side effects, you can help provide more information on the safety of this medicine.
Adverse events should also be to reported to Wockhardt UK Ltd (01978 661261 / drug.safety@wockhardt.co.uk)